TOPSOCCER
A program designed to bring enjoyment of learning and the opportunity to play soccer to boys and girls who have mental or physical disabilities.
---
State Office Contact
---
John Schlenker, TOPS Chairman
State Office Phone
---
540.334.5677
US Youth Soccer TOPSoccer
---
---
What is TOPSoccer?
US Youth Soccer TOPSoccer or The Outreach Program for Soccer is a recreational sports program for children and adults with intellectual, emotional, or physical disabilities offered only through local US Youth Soccer-affiliated soccer clubs. TOPSoccer provides people with diverse abilities an opportunity to play soccer in a structured environment that is safe, fun, supportive, and inclusive.
TOPSoccer Programs in Virginia are sponsored by the Virginia Youth Soccer Association and are affiliated with United States Youth Soccer. The Outreach Program for Soccer is a community-based training and team placement program for young athletes with disabilities organized by VYSA member clubs and volunteers.
The programs are designed to bring the enjoyment of learning and playing soccer to boys and girls who have a mental or physical disability.
VYSA is committed to the development of new TOPSoccer programs and the enhancement of current programs. There are many children who deserve the right to enjoy soccer but are left with no place to play within the traditional system. It is our mission to help youth of all backgrounds to enjoy the beautiful game!
"Every child who wishes to play soccer deserves the right to participate!"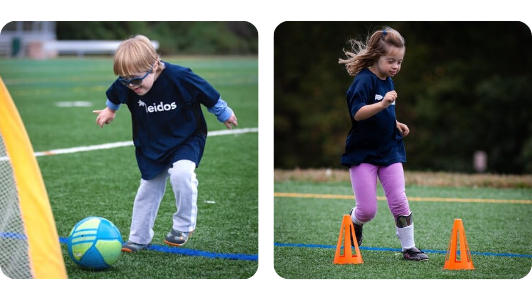 Benefits for Participants
SOCIAL SKILLS – Players interact with their volunteer Buddy and other athletes in a fun, group setting and learn proper social behaviors.
TEAMWORK – Players learn to trust someone else and rely on them through soccer activities and games.
PERSEVERANCE – Players might encounter difficulties with activities, but they will be encouraged to keep trying and overcome challenges.
CONFIDENCE – Players will achieve success on the field that carries over to their lives off the field in so many ways!
Differentiations of TOPSoccer
Buddies: Each participant is assigned a volunteer, trained 'Buddy' who is typically a little older and neurotypical. This Buddy works with their player individually and makes sure they are safe, engaged, supported, and having fun. The player-Buddy relationship is maintained throughout the course of a season, resulting in strong interpersonal bonds and an establishment of trust and confidence that allows each player to achieve their full potential.
Coaches: TOPSoccer coaches and administrators have taken formal USYS education and certification training that assists them in successfully delivering the program. In addition to providing coaching strategies and tactics specifically for children with special needs, the training identifies the traits of the most common disabilities and provides guidance on how to modify typical soccer practice activities so everyone can be successful.
Groupings: Players are grouped by ability, not just age, such that they can develop at their own pace and participate amongst others with similar abilities.
Why do we need a TOPSoccer Program?
TOPSoccer was formed to perpetuate the US Youth Soccer mission statement which is, in part, "to foster the physical, mental and emotional growth and development of America's youth through the sport of soccer at all levels of age and competition." There are thousands of children with disabilities who need and can be provided with, the opportunity to play soccer through the TOPSoccer program.
Find A Program Near You!
Explore Official TOPSoccer programs across Virginia and the District of Columbia run by VYSA Member Clubs.

Don't see a program near you? Contact John Schlenker, VYSA TOPSoccer Chairman, to learn how you can start a program in your area!
---
Training Courses
VYSA offers the following USYS TOPSoccer training courses for program volunteers.
US Youth Soccer TOPSoccer Coaching Course
This training is a (3) three-hour course that includes both classroom instruction and on-field training. This course is designed specifically for adult coaches and focuses on how to run a successful TOPSoccer program.
TOPSoccer Buddy Course (Volunteer Training)
This is a (1) one-hour introduction to TOPSoccer for volunteers interested in assisting athletes with developmental and/or physical disabilities.
UPCOMING COURSES
Training courses will be listed here when available. To request a training course for your program volunteers, contact John Schlenker to learn more.
More Information
For questions about available or upcoming training opportunities for your club's volunteers, contact John Schlenker, VYSA TOPSoccer Chairman.
John Schlenker
piedmonttopsoccer@gmail.com
Resources
Feature Your Program in Touchline
Gain exposure for your club's TOPSoccer Program by featuring an article about your program in the VYSA Official E-Newsletter, Touchline. Completely free for all VYSA Member Clubs.
Get started today! Contact Chloe@vysa.com for more information and assistance with article content.
Getting Started

Identify the need in your area. For what type of disabilities do you need to plan? Are you able to fulfill these needs.
Check for any restrictions placed on the facility you plan to use. Are they equipped to handle athletes with physical disabilities?
Check with your soccer insurance carrier.
Contact established programs for information. (US Youth Soccer, Special Olympics, United Cerebral Pals, Shriners)
Contact your local school districts and universities.
Create a list of people who are able to assist you.
Plan your advertisements.
Get the support of your State Association and Regional -TOPSoccer Representative, and use them as resources.
Creating Your Program

The unique thing about TOPSoccer is that each program is different and is created around the needs of the participants. Additionally, TOPSoccer athletes are placed on teams according to ability, not age.
Length of program is determined by the organizer (6-8 weeks)
Playing rules: Create rules to fit specific needs and use the US Youth Soccer Under-6, Under-8 or Under-10 guidelines
TOPSoccer programs can have very modest beginnings.
For those athletes not able to participate due to medical reasons, design a skills program that is rewarding, challenging and fun.
Variety of choices: Small-sided games (3 v 3, 4 v 4, 8 v 8, etc.), full-sided games (11v11), unified teams (ratio of challenged athletes to non-challenged athletes), indoor programs outdoor program, camp, skills only
Above all… keep it simple… KEEP IT FUN!
Placement and Registration of Athletes

Registration procedures should be the same as those used for regular league teams: should include a section for medical history. Athletes with Down syndrome should be required to have a current x-ray. If the x-ray is positive for their safety, it should be strongly recommended that they do not take part in team play, and in some cases, medical waivers may be required.
Placement is made by ability, not age.
Assessment tests should be made available upon request.
Ensure that the experience is meaningful for the participating athletes and one in which they feel they have made a contribution.
Helpful Hints

Use color coded goals or nets (e.g., red goals/yellow nets).
Have scrimmage vests available.
Have a ball for each athlete.
HAVE FUN!
Cost Involved

Costs vary depending upon your registration fees and insurance fees, and uniform and equipment costs.
Cost should be kept low and affordable to all possible participants.
There are philanthropic entities, such as the Shriners which offer assistance. Research others in the local community (Lions Clubs, Rotary Clubs, etc.).
Approach local companies or corporations for cash or in-kind donations.
Recruiting Coaches

Contact local universities, schools, and soccer clubs for volunteers. The State Coach or Director of Coaching for the state association is also a good source for coaches. No special training is required, however, it is available through US Youth Soccer and state association-sponsored coaching courses as well as through Special Olympics.
Meet Our Instructors
Meet the incredible team that serves as the state association's instructors for training courses.
Alexandria Davis
Alex is a current Kinesiology major at James Madison University working toward a doctorate in physical therapy. Alex has extensive coaching experience: she has served as the head coach and coordinator for two TOPSoccer programs, a child development program, and a U16 girls team. She is also a nationally certified US Youth Soccer TOPSoccer Coach. Soccer has been a positive driving force in Alex's life, and she is thrilled to bring the opportunity to play soccer to children of all abilities.
Jessica Boss
Jess is completing her masters degree in Special Education at James Madison University and is certified in the adapted curriculum. Jess is currently substitute teaching in Special Education classrooms and also has experience as an English as a Second Language teacher's assistant. Jess has volunteered for TOPSoccer for over 10 years and was recognized by the Virginia Soccer Association as their TOPSoccer Volunteer of the Year. She is also a nationally certified US Youth Soccer TOPSoccer Coach.
Annual TOPS Awards
The following individuals have been recognized by the Virginia Youth Soccer Association for their commitment to the TOPSoccer mission and their dedication to the young athletes that benefit from this outreach program.
| YEAR | AWARD WINNER | CLUB REPRESENTED |
| --- | --- | --- |
| 2022 | Lily Fry | Culpeper Soccer Club |
| 2021 | Aeshan Kapil | Great Falls Reston Soccer Club |
| 2020 | Evan Bauer | Virginia Soccer Association |
| 2019 | Jacob Porzeinski | Stafford Soccer Club |
| 2018 | Brennan Ebert | Vienna Youth Soccer |
| 2017 | Abbey Willis* | Northern Piedmont Soccer Club |
| 2016 | Patrick Casey* | Virginia Soccer Association |
| 2015 | Virginia Sanford | Virginia Rush Soccer Club |
| 2014 | Camille Freeman | NA |
| 2013 | Lauren Schlenker | Virginia Soccer Association |
| 2012 | Will Olsen | McLean Youth Soccer |
| 2011 | Lilly Thomas | Loudoun Soccer Club |
| 2008 | Ariel Schwartz | Arlington Soccer Association |
*US Youth Soccer National Buddy Award Winner