---
Member Services
---
Kristen Osteen
P: 540.693.1430 x213
Travel Player Information
Explore all things travel player registration and GotSport in this section. Click on the links to view helpful guides and information on registration procedures.
For questions on specific topics within the GotSport database, visit the GotSport Help Center.
---
---
Club Admins/Registrars Help Guides:
---
Adding Player Options:
---
Templates:
Recreational Player Information
Player Upload
Create your Recreation Player Data in the Recreation Template following the directions below.
Once complete, submit the player data upload into the GotSport system.
It is not necessary to build Recreational teams in GotSport, but Recreation Rosters and Passes are available in GotSport. Teams are created similar to travel teams, but have no activation requirements. Contact Kristen@vysa.com for assistance creating Rec teams, rosters and passes in GotSport.
If you prefer to print Recreation Passes outside of GotSport on US Youth cardstock, please email VYSA Member Services with the number of passes you need and a valid mailing address. Clubs are responsible for printing Recreational rosters and player cards required for tournaments.
Administrator Upload
It is required by USYS that all member associations report their coaches registrations which include Competitive and Recreation coaches.

Follow the same steps as the Player Upload for the Admin Upload. You can download the admin upload template here.
All recreation coaches MUST have a completed background check and SafeSport training to coach a team. No exceptions.
Registration Fees
Registration fees for players are due each fall and spring. Recreation player fees are $9 per player for the 2023-2024 Season.
Invoices will be sent to all recreation clubs for the fall and spring by VYSA Member Services.
Player Upload Instruction Guides
Forms:
Member Fee Structure
| Season Registration Fee | 2021-22 | 2022-23 | 2023-24 |
| --- | --- | --- | --- |
| Travel Player (11U & Younger) | $19 | $17 | $17 |
| Travel Player (12U & Older) | $23.50 | $22 | $22 |
| Travel Team Official | $12.50 | $12 | $8 |
| Recreation Player | $10 | $9 | $9 |
| Recreational Team Official | $0 | $0 | $0 |
Procedures and Policies
Refund Policy
No refunds will be allowed for registration fees associated with travel players or team officials once the team and/or additional players are activated on the roster.
No refunds will be allowed for recreational players once player data is submitted to VYSA.
Upon submitting data and/or rosters are activated, the player and team officials are covered by insurance for the entire seasonal year.
Travel Player Financial Obligation Policy
VYSA Policy Regarding Nonpayment of Club/Team Financial Obligations by Travel Players.
Since Club financial policies differ from club to club, it is the responsibility of the club to ensure their players and teams are knowledgeable of the Club's current financial policy and VYSA's policy.]

Transfer between Clubs or Teams during Seasonal Year: It is the policy of VYSA that all travel players registered with VYSA are responsible for making payments required in writing by their clubs and/or teams. Accordingly, VYSA will not process a transfer of a player from one club/team to another during the seasonal year if that player is not current on his or her financial obligations, provided that (1) the financial obligation is set forth in writing and acknowledged by the player's family, and (2) the obligation is for the current seasonal year. For purposes of this policy, any written financial obligation signed by the player's family will be sufficient, including a financial obligation set forth in an electronic registration document and acknowledged electronically at the time of registration. This policy does not apply to a player who changes clubs or teams between seasonal years. In the event that a club or team objects to a transfer by a player during or between seasons due to failure to make required payments, the club or team must, within three business days of the transfer request, submit to the VYSA office an email to registrar@vysa.com objecting to the transfer. Documentation of the financial agreement supporting the request must be submitted with the email. Failure to notify VYSA, could result in VYSA approving the release of the player. VYSA will notify the family that the transfer is being held until payment is made. A club or team must notify VYSA immediately upon payment (within two business days) to release the transfer request. In the event that VYSA determines a club or team has placed a hold on a transfer in bad faith, the club or team may be sanctioned.
Involuntary Release of Player for Failure to Meet Financial Obligations: If a player fails to meet his or her financial obligations pursuant to a written obligation, a club or team may involuntarily release the player at any time during the seasonal year, provided that the team has followed the process as outlined in the VYSA Travel Team Registration Manual (5.27). If you have any questions, please ask your registrar for assistance; or contact the VYSA State Office.
Permission to Travel
Permission to Travel: Teams requesting permission to travel outside of East Region will need to complete and submit a Permission to Travel Form.
Download the Permission to Travel Form here.
Once completed, email the form to Kristen@vysa.com

Please make sure to download and print a copy of your official roster and player passes.
Guest Playing Outside of Virginia: Players wanting to guest play with a team out of VA, or an out of state player wanting to guest play with a VA team MUST complete an Interstate Permission Form, which requires both State Associations to approve before the player may play. East Region established a policy concerning permission to travel when attending USYS sanctioned tournaments in East Region to make it as simple as possible for the US Youth Soccer East Region teams to travel to tournaments within East Region.
The new policy states that any US Youth Soccer State Association teams within Region I that is accepted into a tournament in Region I do not need permission to travel papers.

State Associations in East Region:
Connecticut Jr Soccer Association
Delaware Youth Soccer Association
Eastern New York Youth Soccer Association
Eastern Pennsylvania Youth Soccer Association
Soccer Maine
Maryland Youth Soccer Association
Massachusetts Youth Soccer Association
New Hampshire Soccer Association
New Jersey Youth Soccer Association
New York State West Youth Soccer Association
Pennsylvania West Soccer Association
Soccer Rhode Island
Vermont Soccer Association
Virginia Youth Soccer Association
West Virginia Soccer Association
GotSport
Your guide to all things GotSport.
About GotSport: GotSoccer is the leading provider of soccer software in the USA and a proud partner of the Virginia Youth Soccer Association (VYSA). Starting with the 2023-2024 registration year, GotSport will serve as the official scheduling and registration platform for the association to manage player registration, risk management for all adult volunteers/coaches and communicate with club representatives. With this partnership, direct member club and community members have access to the most advanced sports management platform on the market.
VYSA understands that utilizing a new platform comes with an adjustment period and learning curve. To assist members as the association moves to GotSport for the upcoming season, please find Onboarding information and a Registrar Manual link below.
Onboarding Training Sessions
VYSA held regional meetings during the last week of April for anyone with questions and help needed with the GotSport transition. Please reach out to Kristen@vysa.com for guides and information that was covered in the meetings.

Previous onboarding training sessions are linked below. Please watch through them as they might be able to answer some of your current questions about the platform. If you still have questions after, please hold onto those questions and they can be addressed at the in-person regional meetings the last week of April.
Onboarding Training Session 2
*Passcode for this video is 5+#N*9s5
GotSport Member Onboarding
Explore VYSA-GotSport Onboarding website at the link below.
GotSport System Login Tips:
Club Admins: To access your GotSport account you will click 'Forgot Password' and set your new password. The email you will use is the main email you use in the User ID for your GotSport account.
If you are not a Club Admin, you will need to reach out to your club to be added to the club account.
GotSport System Manuals
GotSport System Manuals for Non-GotSport Clubs:
For example: Clubs not using GotSport for club in-house registration and programming
GotSport System Manual for Clubs Using GotSport
Insurance
Overview
The Virginia Youth Soccer Association provides Member Clubs/Leagues insurance coverage through its partnership with Players Health. Players Health leads the insurance industry with a comprehensive platform that combines intelligent data driven athlete safety programs with insurance to ensure that your organization is getting the best price possible, and kids are getting the best sports experience possible.
Covered Activities and Participants
Activities that are covered include those sanctioned by VYSA. This includes travel and recreational programs registered with VYSA, tournaments sanctioned by VYSA, tournaments sanctioned by another direct member of US Soccer. Secondary medical coverage is extended to all players registered with VYSA for a defined sanctioned activity. This is accidental injury coverage only and does not cover sudden illness or emergency medical transport coverage or coverage outside the sanctioned event.
Futsal Activities
VYSA sanctions Futsal events separately through Virginia Futsal and US Futsal. Registered Futsal players and coaches are covered at all Virginia Futsal sanctioned events, leagues and tournaments.
Certificate of Insurance
To submit for a new COI please go to the link below. All required information must be filled out to submit. Please allow a minimum 24 hour turnaround for COI requests. If it is urgent, after you submit the request, please email Kristen@vysa.com by 4pm day for receival of COI.
Accident Insurance Claims
USYS Player Information
Roster Limitations
US Youth Soccer Association Rule 205. Roster Limitations
Section 1. Except as otherwise provided by Rule 105- every team shall have a team roster and will present a game roster for every match or competition.
Section 2. The team roster shall be approved by the State Association where the team resides. The team roster may have up to 22 youth players on the team roster at any given time during the seasonal year. Every team roster shall have a minimum of 7 players on the roster at all times. (see VYSA Variance below)
Section 3. The game roster shall be prepared by the team and submitted to the competition authority at a time designated by that authority. The game roster shall have a maximum of 18 players and a minimum of 7 players. Every player listed on the game roster must be included on the team roster to be eligible to participate with the team except for tournament competitions that may accept guest players. As allowed by US Youth Soccer Association Rule 105, VYSA has approved a variance to item (2) of Rule 205 as follows:(2) At any given time during the seasonal year: 9/10U may not have more than 12 youth players on its roster; 11/12U may not have more than 16 players on its roster; 13U may not have more than 18 players; and 14U and older may not have more than 22 players on its roster. There are no minimum numbers of players. A VYSA Travel League may have additional restrictions on roster size.
Please note: VYSA Teams applying to tournaments must make sure the copy of their league roster submitted to the tournament meets the rostering requirements of the tournament.
Policy on Recreation Team Roster Limitations
Approved by the VYSA Board of Directors at the January 21, 2004 Board meeting: Finding it to be in the best interest of developing soccer within the jurisdiction of the Virginia Youth Soccer Association, Inc. (VYSA), to permit a variance in the maximum number of players that may be on the roster of a recreational team, VYSA adopts the following policy:
1. Members of VYSA having recreation programs are authorized to have recreational team rosters of not more than 35 players on each recreational team roster.
2. The member may authorize recreational team rosters of less than 35 players, or the member may authorize different maximum numbers of players (not to exceed 35) on those team rosters based on age groups of the member.
3. The maximum number of players on a recreational team roster must be the same for all recreational teams of the member, or, if the member provides for different maximum numbers based on age groups, the maximum number must be the same for all recreational teams in an age group.
Informational Charts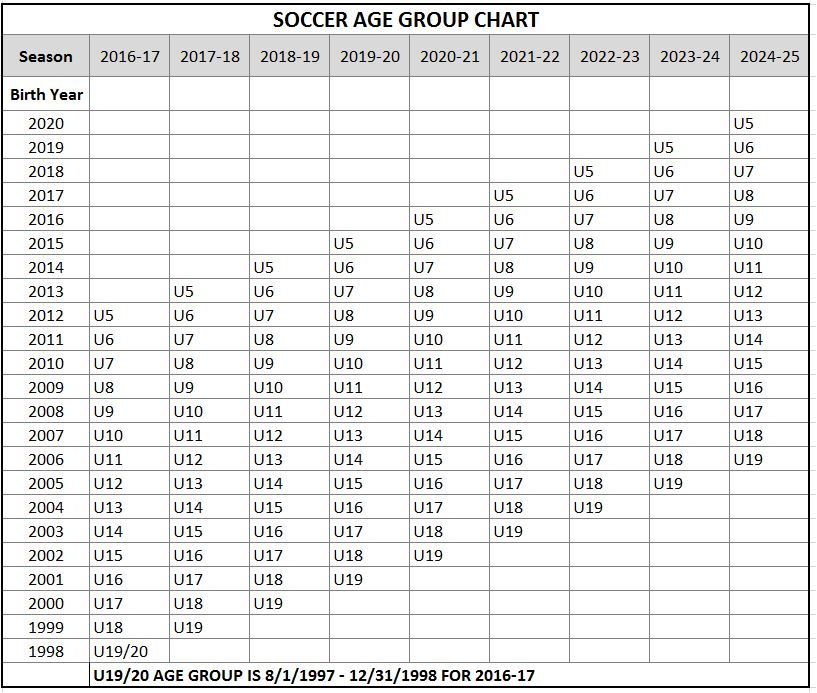 Forms
Additional Forms:
View the Disease Release of Liability and Assumption of Risk Agreement form
Registration Information for Players Born Outside of the United States
(or Played Soccer Outside the United States)
International Paperwork for ALL Players that were both outside of the United States:
Explanation:
FIFA requires all players 17 and younger, regardless of their ability or citizenship, to receive an international clearance from their former country when they are attempting to register to play soccer in a different country (i.e., the United States). U.S. Soccer is responsible for obtaining that clearance on behalf of all players in the U.S. participating in affiliated leagues.
U.S. Soccer has two Minor Clearance Forms and five Minor Exceptions. Please see below.
DO NOT SEND IN PHOTOS FOR APPLICATIONS. ALL DOCUMENTS MUST BE IN PDF FORMAT. PHOTOS WILL NOT BE ACCEPTED.
International Transfer Clearance Options:
Under FIFA's rules, there are seven options by which a player born outside of the U.S. can register with an affiliated league:
1. Entry Prior to Age 10 (P10) – At the time of registration, the player must be under the age of 10 and never been registered outside of the US.
Accepted forms of documentation Limited to ONE (1) of the following:
– Original birth certificate (Must contain parentage information)
– Consular Report of Birth Abroad
-Permanent Resident Card w/Photo
-Passport (including photo page)
-Visa w/photo
-Government Issued National ID w/photo
2. First Registration US Citizen – US Citizen born outside of the US and have never been registered to play soccer outside of the US. OR Awaiting Citizenship – The players does not currently hold physical proof of US citizenship and has never been registered to play soccer outside of the US.
Accepted forms of documentation for player that holds citizenship Limited to ONE (1) of the following:
-United States Passport (to include photo page)
-Consular Report of Birth Abroad
-Certificate of Citizenship
-Certificate of Naturalization
Accepted forms of documentation for players awaiting citizenship Limited to the THREE following documents:
1. Players Birth Certificate – Original birth certificate (Must contain parentage information)
2. Player's Personal Identification Document (PID) – Permanent Resident Card OR Government Issued National ID Card
3. Parents'/Guardians' Proof of US Citizenship – ONE of the following: US Passport (to include photo page), Certificate of Citizenship, OR Certificate of Naturalization.
The following Minor Exceptions are for those that do not fall under the first two options. (Please click on the form link to see all required documentation)
1. 5 Year Exception – The player is registering for the first time and has lived continuously for the last 5 years in the US.
2. 50km Exception – Both the player's residence and the new club are within 50km of their common border and the distance between the two is greater than 100km.
3. Parents Move Exception – The player's parents have moved to the country where the player wants to register for reasons not linked to soccer. This includes US citizens returning to the US after studying abroad and/or playing abroad with an affiliated club/league at any level.
4. Exchange Student Exception – The player is moving temporarily without their parent(s) for academic reasons in order to undertake an exchange program. the duration of the player's registration will not exceed one year and the registering US club is purely amateur and has no pro affiliation.
5. Humanitarian Exception – Accompanied: The player is moving due to humanitarian reasons with their parent(s) and could not be expected to return to their country of origin. Unaccompanied: The player is moving due to humanitarian reasons without their parent(s) and could not be expected to return to their county of origin.
A Club Statement is REQUIRED for ALL the Minor Exception Clearance types. This is a statement noting the first contact the club had with the player.
A Parent/Guardian Statement is required for ONLY the Parent Move Exception. This is a statement from the parent/guardian stating why they moved to the US.
DO NOT SEND IN PHOTOS FOR APPLICATIONS. ALL DOCUMENTS MUST BE IN PDF FORMAT. PHOTOS WILL NOT BE ACCEPTED.

All submissions MUST go through VYSA. Please email all required documents and forms to Kristen@vysa.com for submission.
VYSA office staff will only accept submissions from ONE point of contact. Please send all the forms and documents in ONE email in pdf format.
---
---